Career Center
Become a Starbucks Partner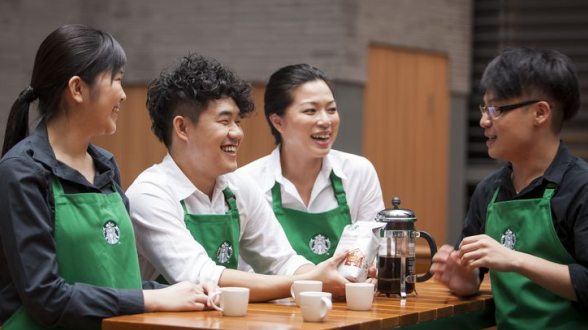 Our success depends on the success of our Partners. Our ability to accomplish what we set out to do is based primarily on the people we hire. When you work at Starbucks, you are more than an employee - we call each other "partners" - someone who shares in the mutual success and rewards of our enterprise.
We look for people who are adaptable, self-motivated, passionate, creative and team-oriented. If this sounds like you, why not bring your talents and skills to Starbucks? We are growing in dynamic new ways and we provide you opportunities to develop your skills, further your career, and achieve your goals.
Starbucks was originally founded in Seattle, US, in 1971. Since the establishment of Starbucks Coffee International and its move overseas to expand business, it has currently over 16,000 coffee houses around the world. Starbucks Coffee Hong Kong opened its first coffee house at Exchange Square, Central in 2000. We value our employees as "Partners" and we as a team contribute to the great success and continual growth of our business. Our mission is to inspire and nurture the human spirit – one cup, and one neighborhood at a time.
At Starbucks, we embrace diversity to create a place where each of our partners can be ourselves. We always treat each other with respect and dignity. If you're looking for a work experience with a challenging role, you may find yourself a career at Starbucks. It's not just a job, it's our passion which inspire your life.